Xometry offers a variety of processes that can manufacture parts in a rubbery material, both through 3D printing and tooled methods. Knowing which processes are available can help guide you to choose the right process for your part. A brief description of each process, material, advantages, and trade-offs of each process are outlined below.
3D Printing - HP MJF (TPU 88A)
HP Multi Jet Fusion builds parts from a powder bed by selectively applying agents and heating to create specific melts. This is repeated layer-by-layer, building a 3D printed part without the need for support structures. Rubber-like TPU (thermoplastic urethane) can be printed in this material, and it can even be vapor smoothed for an enhanced surface and properties.
Process:

HP Multi Jet Fusion (MJF)

Material:

TPU 88A

Advantages:

Quick lead times; great for test fits scalable production; relatively inexpensive compared to tooling; high accuracy; end-use durability; can be vapor smoothed

Shore A Values:

Shore A 88

Disadvantages:

Matte surface without vapor smoothing. Slightly looser tolerances than typical MJF materials.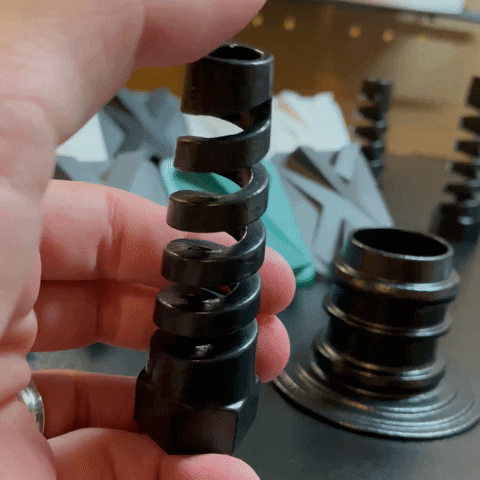 Gif: HP MJF TPU 88A with vapor smoothing
3D Printing - Carbon DLS (EPU and SIL)
Carbon DLS, known as Digital Light Synthesis, is an additive manufacturing method that forms isotropic features in a variety of engineered materials. Two DLS materials are rubber-like: EPU and SIL. Both have high durability and over 300% elongation to break offering an alternative to traditional casting or molding of smaller rubber components.
Process:

Carbon DLS

Material:

EPU 40 (Shore A 68 Elastomeric Polyurethane) and SIL 30 (Shore A 35 Urethane Silicone)

Advantages:

Quick lead times; great for test fits scalable production; relatively inexpensive compared to tooling; high accuracy; end-use durability

Shore A Values:

EPU 40 comes in a black A68, SIL 30 comes in a gray A35

Disadvantages:

Higher upfront cost at very low quantities, supporting structure may have remanents
3D Printing - PolyJet 3D (rubber-like)
PJ3D is an additive manufacturing process where a printer head precisely deposits a UV-curable resin to construct parts from a 3D CAD file.
Process:

PJ3D

Material:

Rubber-like

Advantages:

Quick lead times; great for test fits and one-off prototypes; relatively inexpensive; incredible accuracy with tolerances as low as +/- 0.0035" or +/- 0.0005" per inch (+/- 0.013mm or +/- 0.09mm)

Shore A Values:

PolyJet can print in black Shore A 27, 40, 50, 60, 70, 85, and 95. Shore A values range from very soft on the lower numbers and more firm on the higher numbers.

Disadvantages:

Fragile for small features; tears easily (it does not stretch like rubber); removing support material may restrict freedom of design. Shore values may soften if in a humid or heated environment.
Video: Carbon DLS vs. Polyjet 3D printed rubber-like materials
Urethane Casting - Urethanes and Silicones
Urethane Casting consists of a two-part process of first 3D printing a master pattern to serve as a template for a silicone mold, which will then be used to cast parts.
Process:

Urethane Casting

Material:

Urethane; Silicone (available upon request)

Advantages:

End-use durability; abrasion and tear-resistant; color matching; different surface finish options; parts can be up to 30" (762mm) long

Shore A Values:

Most Shore A durometers can be easily met and matched for ultimate customization.

Disadvantages: Longer lead times than 3D printing; more expensive due to upfront pattern and tooling costs
Injection Molding or Compression Molding - Thermoplastic Elastomers and Liquid Silicon Rubber
Injection molding consists of CNC machining a metal tool with cavities and using a press to inject melted material inside the cavity, forming the part. The tool then opens and the part is released. Injection molding has the highest scalability of any of Xometry's processes due to low part cost, but relatively higher upfront costs. Compression molding is available for elastomers as well, which uses a pre-measured "charge" of material placed into a mold cavity that compresses and forms the charge into the shape of the part.
Process:

Injection Molding / Compression Molding

Material:

TPE, TPV, PVC, LSR, EPDM, Customer Supplied, Custom Requests

Advantages:

End-use durability; abrasion and tear-resistant; color matching; different surface finish options; incredibly scalability from 50 to beyond 50,000 units

Shore A Values:

Most Shore A durometers can be easily met and matched for ultimate customization.

Disadvantages: Longer lead times than 3D printing; more expensive due to upfront setup and tooling costs but has cheaper per-part costs
Visit our main capability pages to learn more: